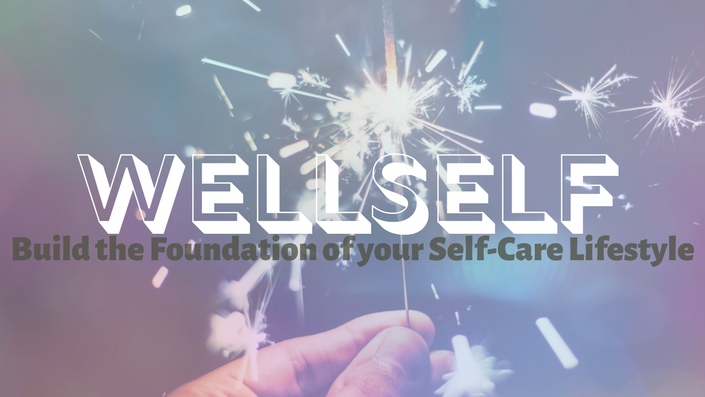 WellSelf
Build the Foundation of your Self-Care Lifestyle
What if you had the time, energy and motivation to show up for your life and you knew exactly how to support yourself, no matter what came up in your day?
I've talked with hundreds of people over the last eight years and one of the biggest struggles I continue to hear is, 'I just want to feel happy in my body and my life, but I can't seem to find the energy or the time to do it'.
You see other people doing it - they seem happy, they're balancing all the things, but you're sitting there like,
Where the heck do people find any time (let alone energy) to do all that shit?!?
Can you imagine living a life where you are content and satisfied within your day to day?
Envision waking up in the morning, feeling ready to start the day, genuinely open for what could unfold and feeling confident you could handle anything that comes your way.


I BET YOU'RE SICK + TIRED OF...
Trying all these different types of diets + protocols. Sure, learning is fun, experimenting is education - but you're robbing yourself of your intuitive knowing when you're policing yourself with all these rules, constantly.


The overwhelming self-doubt cycles that play on repeat in your head and the constant policing of all your own actions. Yeah, I know about the voice that whispers in your ear when you decide to go out to Italian or you want to smoke another joint.


Not having enough time in the day! I mean seriously, how can some days feel like they go on forever and others are over in the blink of an eye?! Productivity waxes and wanes, you never quite feel accomplished and you're not really sure you believe that balance is a real thing anymore...


Tracking, weighing, measuring + counting every little thing in the name of "getting healthy." I know you don't want to be doing that the rest of your life...there has to be another way.

Being indecisive AF. Ooh it's just soo frustrating sometimes, but you really, truly cannot make a decision if it was the decision to save your family, friends, fur babies and everyone else you cared about on the face of planet Earth!


All the controversial information flying at you from every which direction? How do you know what to believe? How do you know what you believe? How do you decide what to go along with or not? It's all so confusing and overwhelming!!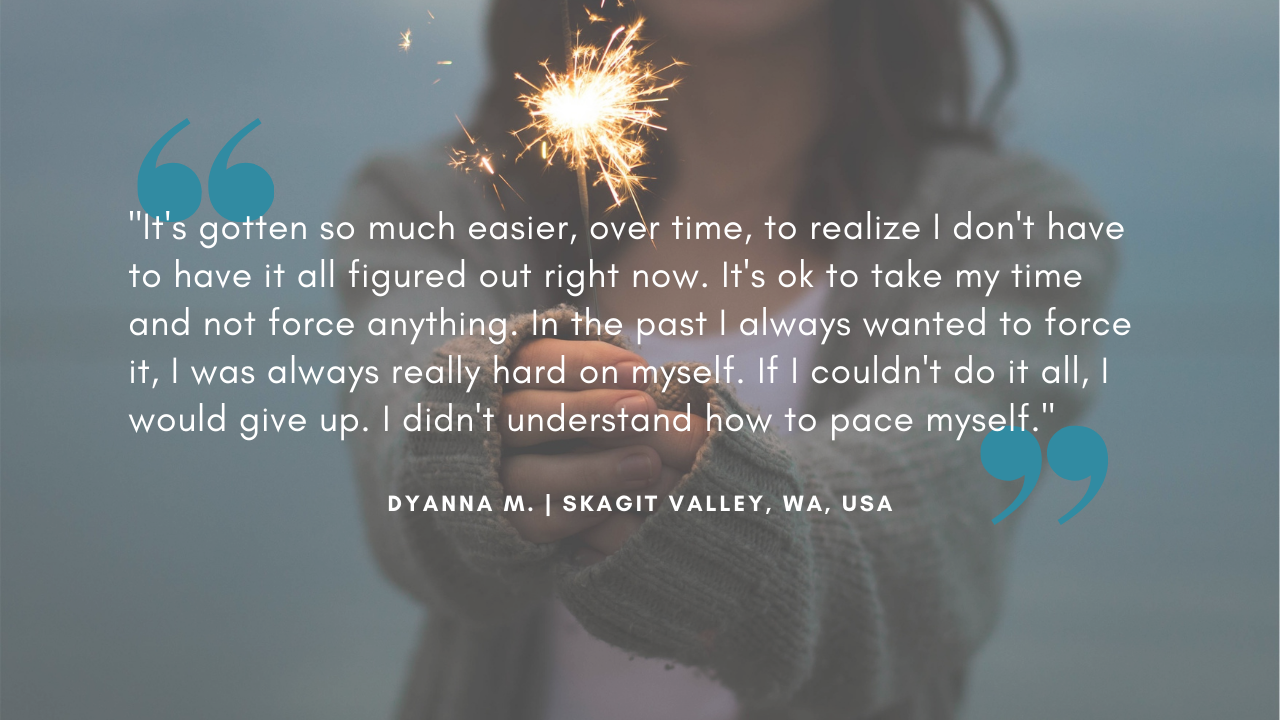 What if you could wake up ready for the day, feel good about who you are and how you show up in this world, make confident decisions and rest easy in the evening?
What if you could cultivate this way of living
...without a protocol
...with minimal self-doubt cycles
...without constantly fretting about time
...with no tracking/weighing/measuring/counting
...without giving your power away, searching outside of yourself
...while learning how to tune in and trust yourself to make decisions
...without wondering where to go or how to make it happen
Here's the thing - when it comes to adding in self-care routines and prioritizing yourself, it's not about following the rules or tracking, counting and measuring every little thing!!
It's about supporting yourself as a unique individual and learning how to trust in your body, mind and heart.
That's why I felt obligated to create a solution that addresses why our self-care always comes last and how you can easily implement an approach that is designed for your unique self and your individual needs.
I KNOW THIS STRATEGY WORKS BECAUSE...
One day in the summer of 2018, feeling quite down on myself, totally defeated about my stress levels, eating habits and movement regime, I found myself trying to get myself to do another diet reset program. Something to "motivate me" into "taking care of myself."
I was feeling heavy resistance when a thought came to me:
What if you trusted yourself to make these decisions?
I mean, you've been at this for YEARS. What if you drop the hard how-to's and trusted yourself to do what you need/want to? You know you're a responsible enough adult. You're not just talking about personal goals either - what if you trusted yourself to wake up in the morning, take time for you, get movement in, complete tasks and appointments throughout the day.
What would happen?
Would all hell really break loose?
Would you sleep in every day and never get anything done?
Would your stress levels sky rocket?
Surely, even if it seemed ok to start, it wouldn't last...


And that is precisely how it all began to unfold.
Not only did I start showing up for myself, but my level of self-trust and confidence sky-rocketed
I found myself excited to wake up and try new things in my morning routine
Suddenly, I was reaching fitness goals that I wasn't even directly aspiring to
Eating nourishing, whole, + unrefined foods became simple and easy again, with 0 guilt for all my fav snacks + takeout orders
I was able to have deeper, hard conversations without anger or upset, but instead genuine understanding
My stress levels began to dip and I felt like I had more time and energy in my days
I genuinely felt satisfied in my daily living
...and so did my clients
Floored by my results, I tested it out with clients, only to realize just how truly impactful the act of slowing down + tuning in can actually make on one's life.
If you're ready to step into your power...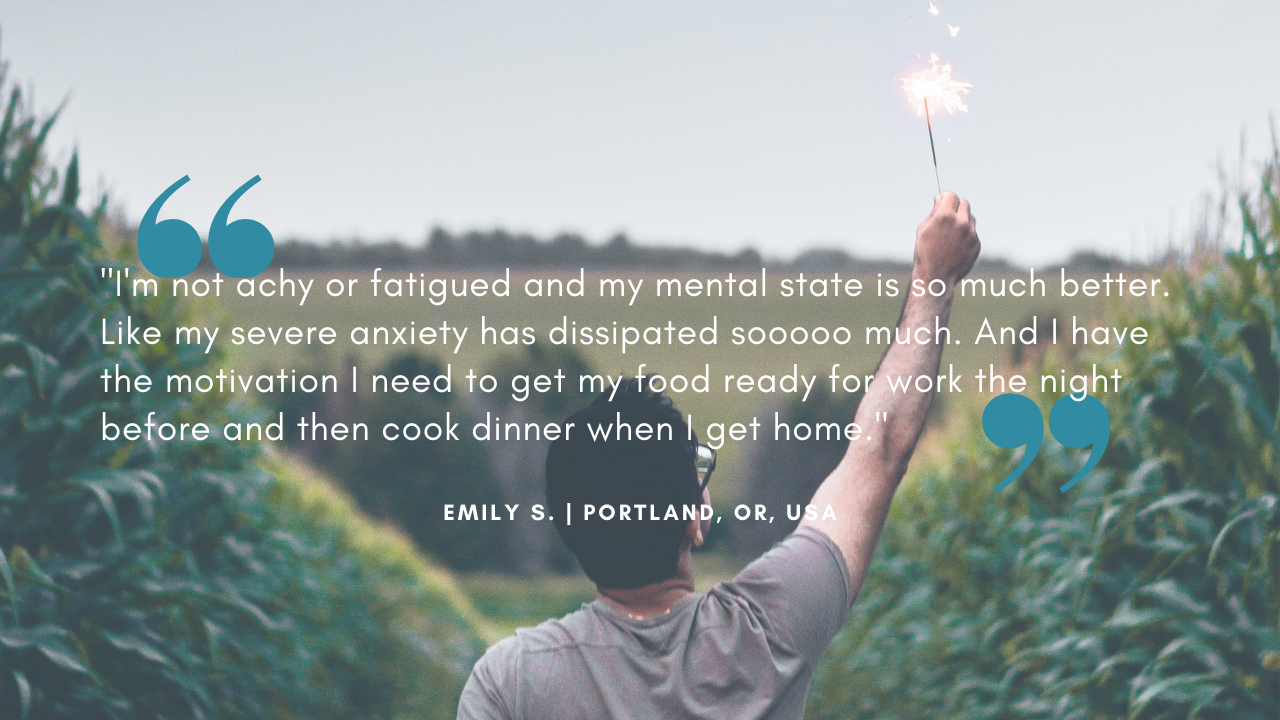 "I just want you know, that because of you, I'm healthy."
A brief case study.
Emily was the first nutritional therapy client I worked with after exploring this new phenomena with myself.


She came to me working long hours, with little to no energy to do much else in her days. Her anxiety was the highest and most intolerable it had been in all her life and she was convinced she needed to focus on diet and lifestyle to better improve who she was, because frankly, she didn't like herself anymore.


In our first session we discussed stress cycles, self-sabotage loops and self-support systems. Within one week - literally our one week check-in - she reports that her anxiety levels have plummeted, she feels more confident and has more energy for the day - oh and just because she felt like - she's decided to stop drinking coffee. Something she explicitly was not interested in when I had asked her previously.


I saw Emily at a wedding half a year later and she pulled me aside. "I just want you know, that because of you, I'm healthy." She told me, with a beaming smile on her face. I burst into a sobbing ball and we hugged. This is what I live for.
If you're ready to finally find yourself...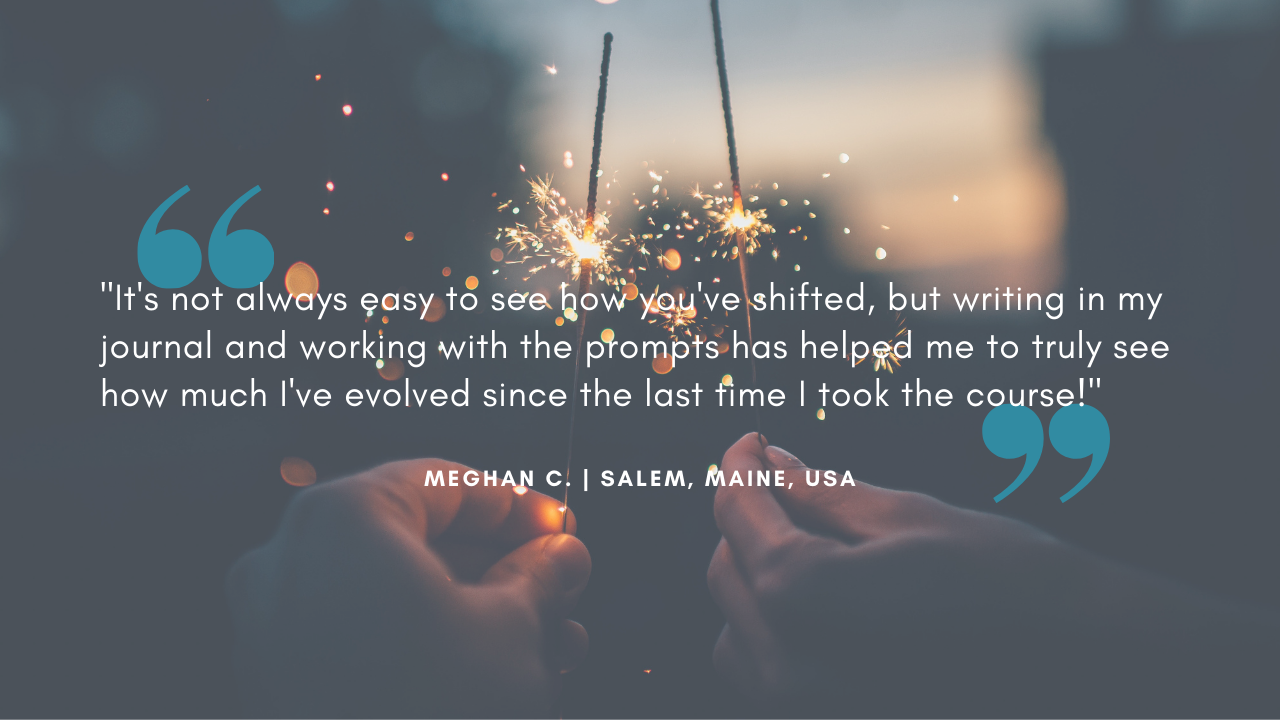 THIS COURSE WILL TEACH YOU HOW TO
- Confidently know what it is you like doing
- Confidently know what you don't like doing
- Compassionately recognize current frustrations
- Show up for yourself + how that is showing up for others
- Understand and support your own stress response
- Listen and hold space for yourself and for others
- Be with your emotions, see how they feel in your body
- Trust that your body knows what is best for you and is constantly in communication with you
- Know that your intuition and innate intelligence is a super power
- Not take yourself so seriously
- Define limiting beliefs and catch them when they pop-up
- Determine which core values you anchor your life from
- Get creative, play and have fun in your life!
- Start the co-creation dance of living a conscious life
WellSelf is designed to be your final solution
to that crippling self-doubt and
running-on-empty nonsense!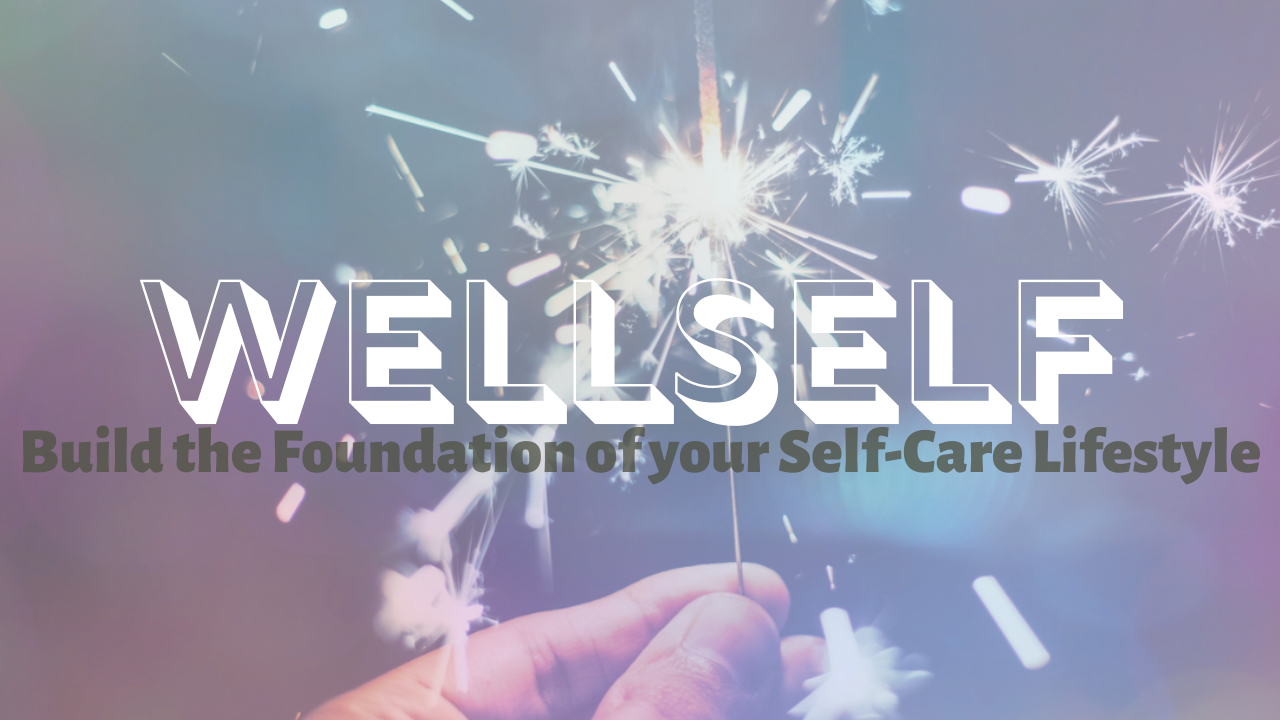 + Lifetime Access! +
- Available across all devices! -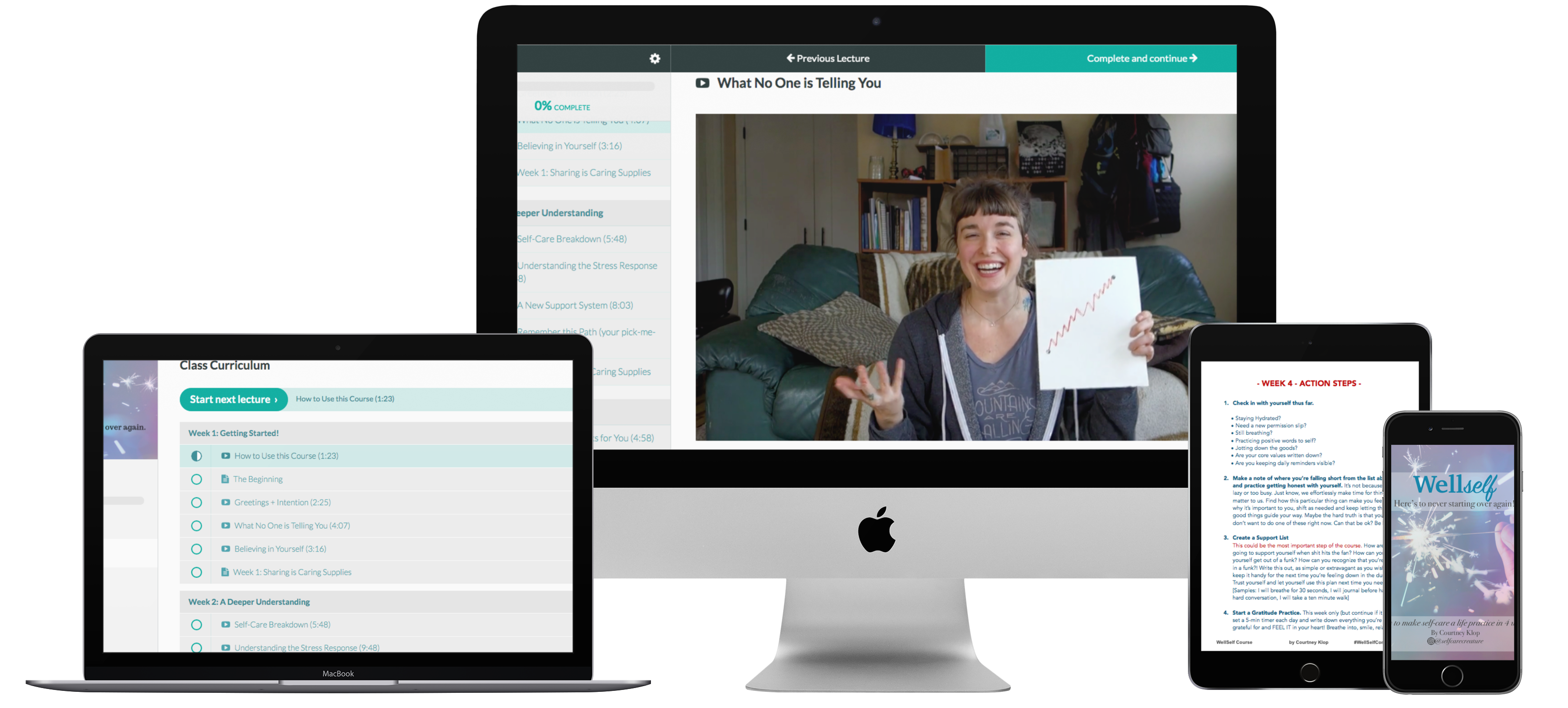 Hi, I'm Courtney, the course creator + your self-care educator!
Consider me your self-care guide! I've been fumbling on this path for over 8 years (professionally since 2012) and I think it's time that you stop searching and start becoming that confident badass who knows how to take care of yourself. I know you want to be that person and we both know that it is possible.
You must have a deep and solid foundation of knowing who you are and what you stand for in order to show up as your authentic self in your life and make a difference in the world at large.
Building this foundation includes learning how to let go of ideals and stop fitting yourself into boxes. When you can learn how to love, hold and support yourself, you unlock your creative flow and your entire life will begin to shift before your eyes.
Are you finally ready to shift your shit so you can celebrate yourself and your life on a regular basis and participate in meaningful work in the world without burning out? WellSelf was created for you.
A little more about me
With a background as a holistic chef, certified personal trainer, yoga instructor, and functional nutritionist, I have come to describe self-care as synonymous to healthcare and self-compassion.
I'm a wild-hearted soul that lives for adventure and genuine connection. I'm enamored by life, nourishing traditions and the human experience altogether. I'll teach ya how to loosen up, trust yourself, and love your life!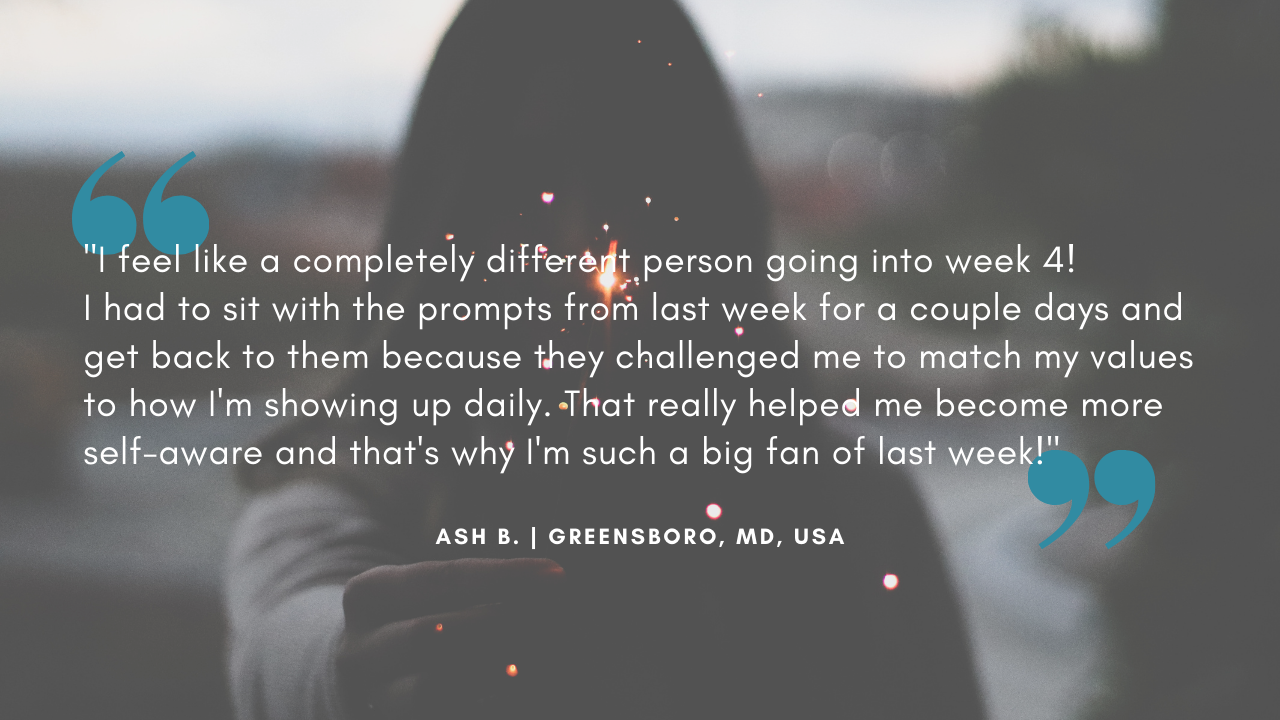 👉WHAT YOU GET IN THE WELLSELF COURSE:
- Lifetime access with any updates included as I continue to personally learn and grow. You will never miss an update, you'll get exclusive offers for any classes or workshops that may come up - and best of all - you can take the course as many times as you wish!!
- Opportunity to connect with likeminded, wild-hearted souls searching for their own stability amidst life's ever shifting chaos. Community support to remember you are not alone.
- 20+ video learning + video lectures. Short and concise for busy schedules.
- All laid out in an easy to follow week-by-week process. Easy to re-visit whenever needed.
- Printable PDF Workbook with weekly action steps + prompts to aid you in going deeper. Accessible across any device.
- Social media content for sharing when big life epiphanies hit ya. Totally optional, obviously.
- Ongoing communication via course comment threads (to create supportive space away from social media).
👌WHAT YOU GET WITH THE VIP TREATMENT:
- Everything listed above, plus...
- 3 months of mentorship with Courtney! It's like having a professional bestie in your pocket at all times - that's what the VIP is all about!
- 60-minutes of 1:1 session time per month
- Private, encrypted communication with text + voice message support for any questions or comments that come up. Text at anytime with a guaranteed response time of 48 hours (M-Th)
Are you ready to feel in flow with your life?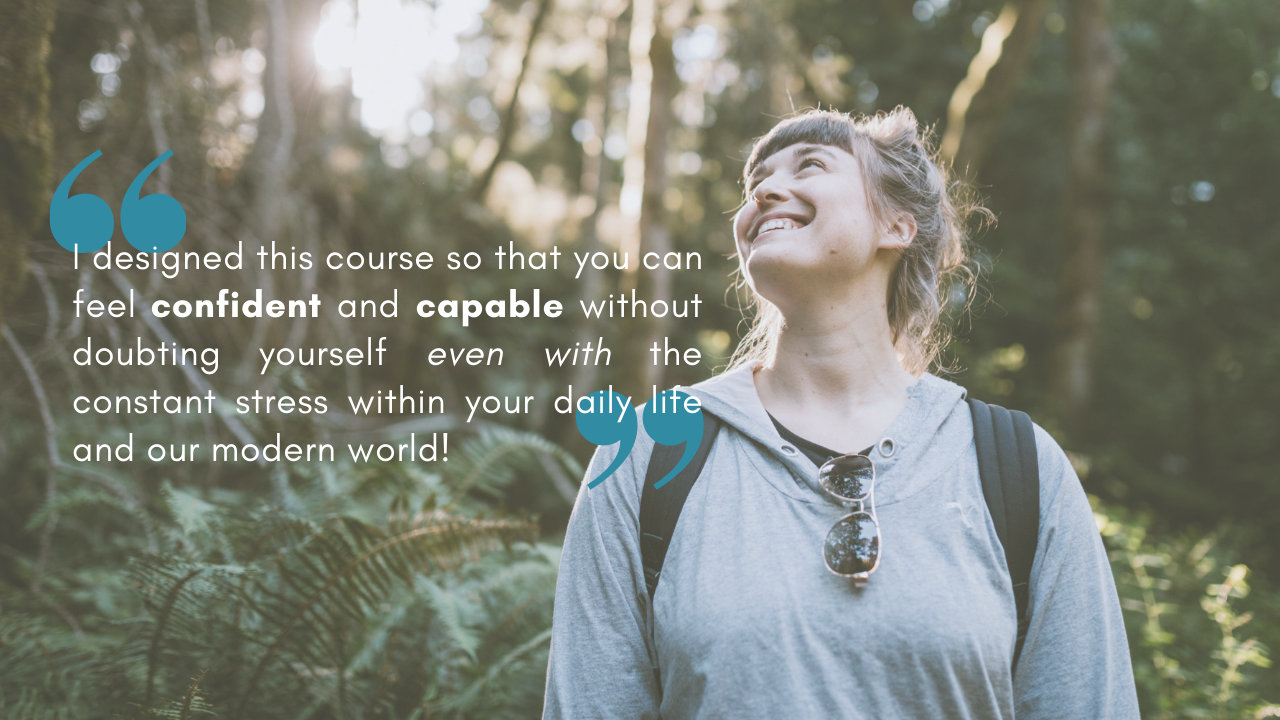 Frequently Asked Questions
When does the course start and finish?
This is a self-paced course that can begin + end whenever you desire! If you purchase the VIP Treatment you'll have 30 days from date of purchase to begin working 1:1 with Courtney, plus you will receive reminder emails - so there's no rush in getting started and there's no forgetting that you snagged this gift for yourself!
How long do I have access to the course?
You have access to the entire WellSelf Course for the rest of time! How do you like them apples?!
What if I am unhappy with the course?
I would never want you to be unhappy and that goes against every intention I've set forth with this course! That being said, since this is an information based e-product with downloadable content, once you purchase this program it is yours forever! Thank you for understanding and respecting the time + energy it takes to put something like this together.
I'm going through a lot right now, can I still make it work?
It's never going to feel like the right time. What is great about this course is that it's foundation building. No matter what comes up in life you get to keep these tools, hone them, add to your tool belt and keep coming back again and again. You're building a powerful center from which to pivot from in your life. I've had people take this course as they were going through break-ups, changing jobs, leaving everything they knew for travel, dealing with a death in the family ... and they only felt grateful for having this foundation to come back to!
What's the time commitment each week?
At the DIY pace you can really spend as little or as much time as you choose to allow yourself! The video lectures never go over 15-20 minutes total per week and most week's the total running time is less than 10 minutes. The journaling, prompts, personal q+a, and action steps will take up more time. I'd allot an hour per week for these required pieces of the process. More or less time, depending on how much time, space + desire you have to show up for yourself and how that fits into your life at this time! The VIP Treatment adds an extra 60 minutes of 1:1 time with Court each month, not including any time you may spend communicating in the private encrypted chat.
PLEASE RECONSIDER IF:
You need hard set rules and you're not comfortable with the unknown. My guidance approach requires an open mind and uses a lot of questions, emotional digging and journal prompts to help you tap into your intuition and gain self-trust. You may be asked to explore fears, anxieties, wounds or triggers. I do my best to make sure you feel entirely supported, but to make shifts in your life, you must be willing to put courage over comfort. It's okay if you're not ready, but it's important to be realistic.

If it's no longer an option for you to not
feel satisfied with who you are and
how you show up in the world...
This course is closed for enrollment.